so recently the latest project i was working on at
flickerlab
wrapped and now i'm kind of floating around on the homefront. i've been working through some favors i need to make good on [show ya soon!] and just trying to brush up and work on being motivated in general...
SO! inspired by the amazing blog:
Uncle John's Crazytown
i decided i should drop some coin and but Jerry Beck's Van Beuren research DVD collection...and let me tell you i have NOT been disappointed!
for anyone interested:
http://www.cartoonresearch.com/garagesale.html
in any event i just got done watching a cartoon from 1930 entitled "Snow Time." Lots of iceskating hijinks. but one scene stuck out to me in particular...
there's a hotdog vendor at this ice rink. i guess they've got those at hockey games and the like now...but it still seems like an odd plce for hotdogs for some reason...there's an earlier van beuren with an ice skating rink with farmer al falfa buying hot dogs that don't want to be eaten...this particular scene strikes a similar chord; this poor dog has skated himself starving and he just wants to eat some hotdogs! he pays good money and what does he get? and unruly all beef frank that rips out his teeth and totally absconds with them! that a jerk!
so the solution? OBVIOUS! the vendor wants to sell the dogs, the patron wants to eat but can't chew...MEATGRINDER!!!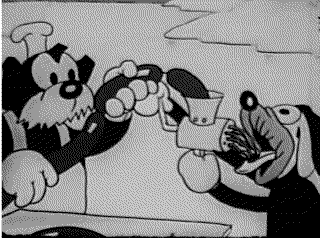 ohh and it's one of the most amazing cycles i've ever seen. so of course it needed to be put in animated gif form.